BOARD OF TRUSTEES ADOPTS NEW ELECTIONS PROCESS
The Board of Trustees of the San Mateo County Community College District finalized the process of transitioning from an "at-large" board election system to a "by-trustee area" election system at their recent meeting this week. This move comes after the Board of Trustees voted on June 14, 2017, to move to by-trustee area elections. In action taken at their meeting on October 11, 2017, the Board adopted a map that divides San Mateo County into five Trustee Areas, and established a sequencing for future elections for those areas. The approved map, which did not take into account incumbency, includes two trustee areas where no incumbent currently resides.
"The Board has been considering transitioning to this new system for some time. It's the right thing to do for the citizens of our community," said Thomas Mohr, President of the San Mateo County Community College Board of Trustees. "Having five trustee areas rather than county-wide election will make it easier and more likely that more individuals will run for election to the District's Board. With this circumstance will come diverse populations having a greater impact on the election process and the likelihood that there will be greater diversity in the composition of the Board."
Over the last year, as part of the process to evaluate transitioning to the "by-trustee" area election system and selecting trustee area maps, the Board of Trustees has held public hearings across the District. These included meetings on the campuses of Cañada College in Redwood City, College of San Mateo in San Mateo and Skyline College in San Bruno, at Cabrillo High School in Half Moon Bay and at the District Office in San Mateo.
Currently, trustees of the San Mateo County Community College District are elected in "at-large" elections in which each member of the governing board is elected by the registered voters of the entire county/district. In "by-trustee" area elections, distinct geographic electoral trustee areas in the county are formed and each trustee area elects one Board member. Candidates are required to reside within the trustee area and are elected only by residents of the area.
Under the District's new election system, two trustee areas (2 and 4) will be up for election in 2018 – and every four years thereafter – and the remaining three trustee areas (1, 3 and 5) will be up for election in 2020 – and every four years thereafter. The map detailing the new trustee areas is available below.
CONCEPTUAL TRUSTEE AREAS - SCENARIO 4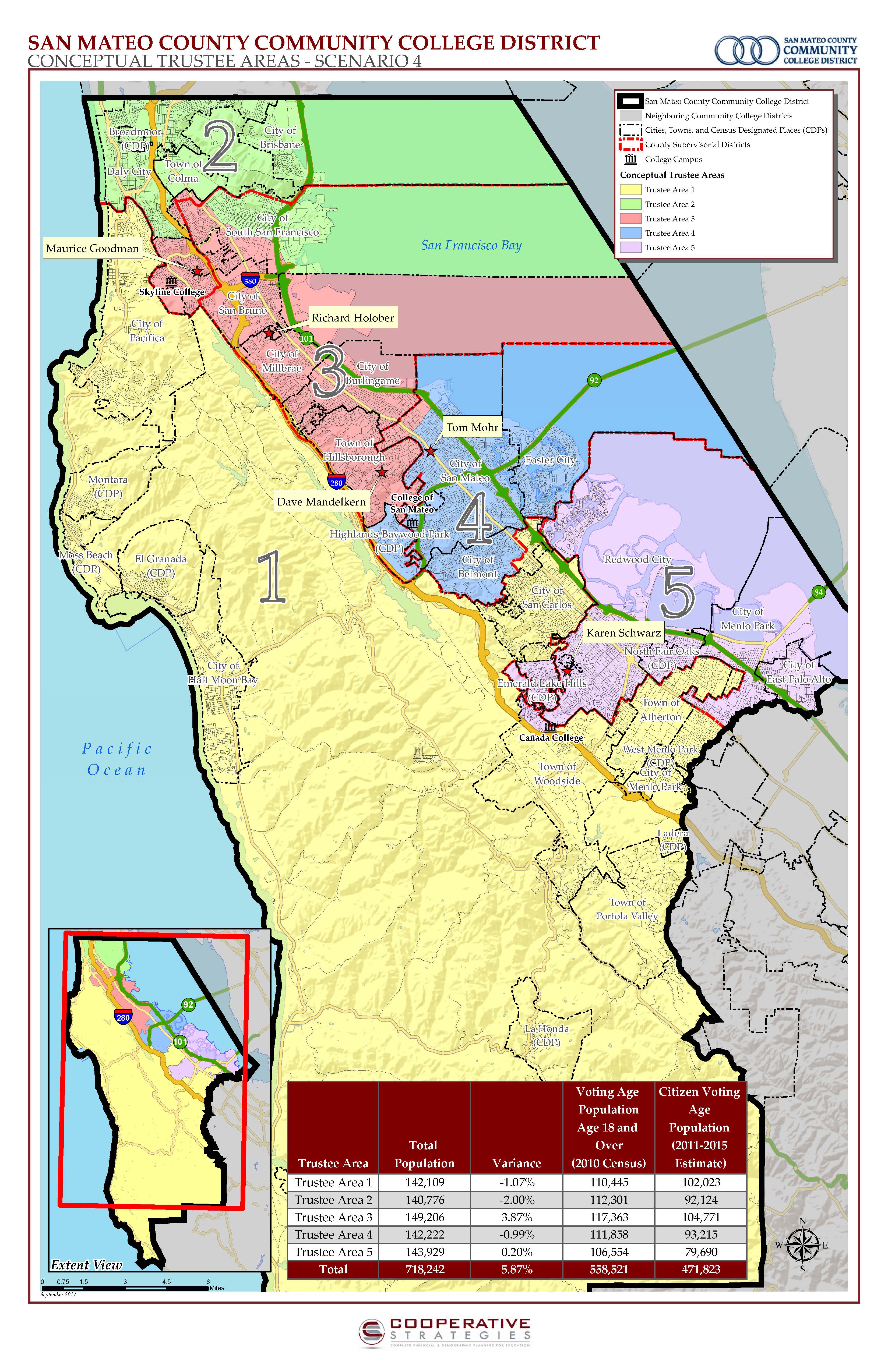 Download full Scenario 4 map in PDF