We provide high quality virtual instructor-led training. Visit our Online Leadership Academy to view open options or to select trainings to be customized for your team(s).
Our talent development services include an array of powerful options to support and strengthen leaders and teams. We're here to help you get the results you need.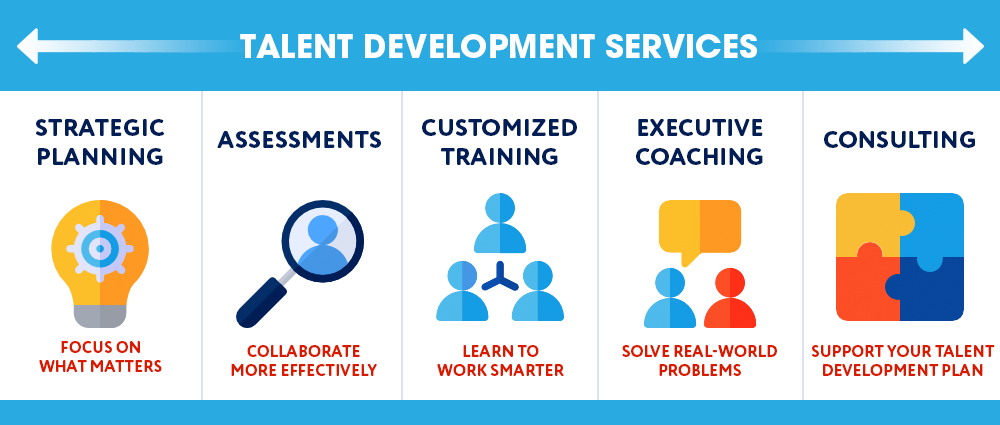 CUSTOMIZED TRAINING
Increase productivity and operationalize values into behaviors. Leaders and teams learn to communicate more clearly, manage more effectively, work more productively, and resolve interpersonal conflicts more successfully. View a select list of our training menus here, and more here. While our lists are comprehensive, clients may request training topics not listed.
EXECUTIVE COACHING
Executive Coaching isn't just for the C Suite anymore. Leaders and key employees at every level can be further developed to enhance credibility, relatability, productivity, and alignment. Executive Coaching is available for individuals or organizations as a direct service or in conjunction with training. Learn more about our coaches here. Then start a conversation about your coaching goals.
ASSESSMENTS
Drive individual and team success and collaborate more effectively through a deeper understanding of personality traits and behaviors and how they impact team dynamics. We offer Working Genius, DiSC, StrengthsFinder, and MBTI assessments on request.
STRATEGIC PLANNING
Identify and stay focused on what matters. Leverage our simple strategic planning process covering big picture strategic questions, priorities, and execution.
CONSULTING
Strategic Advising and Organizational Development consulting to support your talent development and help you get the results you need.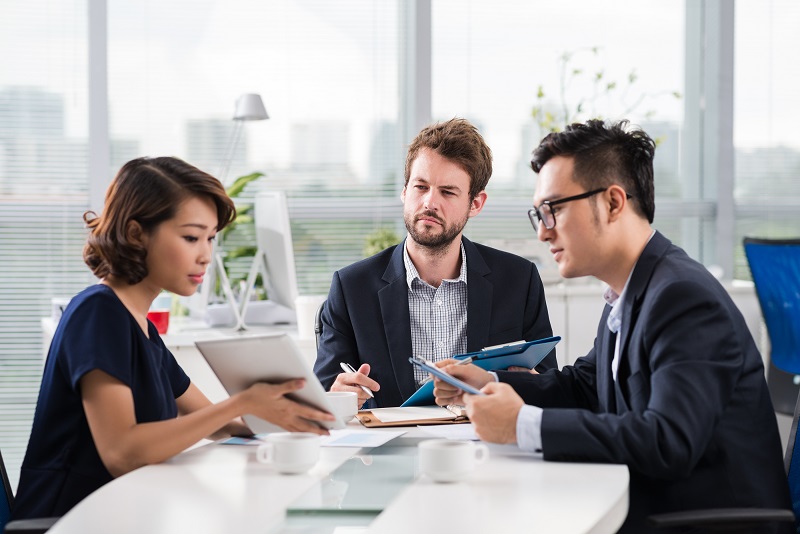 How our clients feel about working with us...

"Jonathan and the IFMA Team (Rae & Jackie) implemented IFMA Soft Skills cohort for both our C&W and Google teams which were very engaging and adaptable for the end users. They definitely brought their knowledge and expertise to the table when coaching the teams through their different types of topics & exercises they have planned. The team appreciated the flexibility when it came to soft skills exercises and open forum discussions. Both teams felt that they were able to bring their challenges to the table and leave with working solutions on how to overcome our evolving industry! Thank you Jonathan & team for everything you do!"
Belinda Leung, Business Operations Manager, Cushman & Wakefield on behalf of Google

"My team found the High-Impact Leadership Training comprehensive, thought-provoking, fun, and effective - and the trainers were excellent! Most importantly, the content was highly relevant to Snowflake and demonstrated Jonathan and his team's ability to listen to our needs and design a customized framework of easy-to-apply skills and strategies to grow our leaders, managers, and team members. I highly recommend CCCE Corporate Training Solutions to any fast-scaling company seeking to upskill their leaders and teams." Walter Aldana, Vice President of Global Alliances, Snowflake

"Working closely with SMCCCD's Community, Continuing and Corporate Education (CCCE) team, we developed a custom class designed to improve my management team's professional communication skills. Together with the CCCE team, led by Executive Director Jonathan Bissell and Professional Trainer Rae Ann Ianniello, we created and delivered a full-day Effective Communications workshop. The workshop drove home key concepts, provided active coaching, and leveraged creative reinforcement techniques that helped my staff internalize what they've learned. Exercises were built off real-life experiences that my team could easily relate-to. They were able to apply what they have learned immediately in their day to day interactions upon completion of the workshop. It's rare to see such improvements so quickly. Kudo's to the CCCE team!"
Frederick Siy, Managing Director – Application Development and Support