We provide virtual instructor-led training customized to your needs. Contact us for our full virtual training menu.
Our talent development services include an array of powerful options to support and strengthen leaders and teams. We're here to help you get the results you need.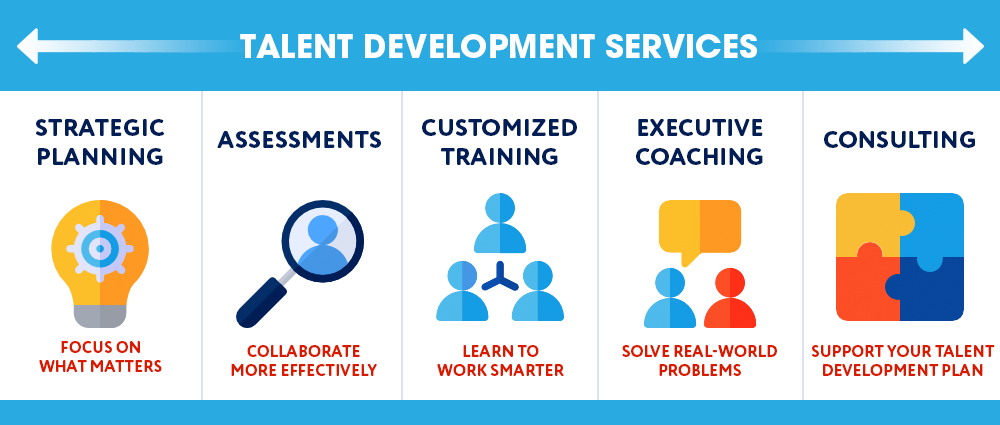 CUSTOMIZED TRAINING
Increase productivity and operationalize values into behaviors. Leaders and teams learn to communicate more clearly, manage more effectively, work more productively, and resolve interpersonal conflicts more successfully. View a select list of training menu options, with more available upon request.
EXECUTIVE COACHING
Don't just train your employees, develop them! Leaders and key employees at every level can be further developed to enhance credibility, relatability, and alignment. Executive coaching helps leaders successfully address real-world opportunities and challenges that matter. Coaching is available to individuals or organizations (as a stand-alone or in conjunction with training). Start a conversation about your coaching goals.
ASSESSMENTS
Collaborate more effectively through a deeper understanding of emotional intelligence, personality traits, and behaviors (individual or leader assessments, and 360 surveys).
We offer DiSC, StrengthsFinder, and MBTI assessments on request.
The Myers Briggs Type Indicator® assessment is used by many organizations throughout the world to discover knowledge of personality type and how it is used to increase effectiveness and self-awareness. MBTI can be introduced into an organization to support and apply to many situations including: management, team dynamics and working with others, leadership skill development, conflict resolution, executive coaching, change management, and other customized needs.
When a person understands their type preferences, they can approach work in a way that best suits their strengths, including time management, problem solving, decision making, and dealing with stress and conflict. Being able to understand one's workplace culture, their team and what they can bring to the table, is an invaluable element of career development.
We offer individual and team options for MBTI assessment and workshops, and can customize our program to fit your needs.
STRATEGIC PLANNING
Identify and stay focused on what matters. Leverage our simple, three-step strategic planning process covering big picture strategic questions, priorities, and execution (one-on-one, groups, retreats).
CONSULTING
Strategic advising to support your talent development plan so you get the results you need (one-on-one or groups).
---
Other Training Options
Open Enrollment Leadership Series
Upskill individual employees through our Open Enrollment workshops held online via Zoom. Listed pricing is for Open Enrollment only. Visit our Events page for details.
Online Program
6-WEEK DESIGN THINKING COURSE
Offered in partnership with The Berkeley Innovation Group and Knowdeon. Enjoy weekly live sessions and collaborative teamwork - and make the shift from Design Thinking to Design Doing!
Design Thinking is a "learn by doing", not a "learn by listening" process. The Berkeley Innovation Group (big), led by Berkeley Haas lecturers Clark Kellogg and Jeff Eyet, has teamed up with Knowdeon to offer an online course that meets learners where they can immediately apply the principles of Design Thinking to their daily challenges.

This powerful problem-solving methodology enables innovation -whether for start-ups, Fortune 500 companies, or social-sector organizations. It is intended for...
It is intended for learners from all functions and backgrounds, and is not restricted just to "creative" people. By the end of the course, learners and teams will find themselves empowered with the knowledge and skills to unlock innovation and value for the long run.

Dates: Mar. 23 to May 10, 2020
Hours: 6-8 hours/week with 1 hour live
Tuition: $995. Receive 10% off by using discount code "CCCE10". Group discounts available upon request.
Register by Friday, Jan 3, 2020.
Certificate to be awarded by The Berkeley Innovation Group and CCCE upon satisfactory completion of the final project.
Global Workplace Wellness Summit 2020
Be at the Forefront of the Workplace Wellness Competency Mindset Shift
Offered in partnership with Interpersonal Wellness Services.
Join us for our second annual GWWS in California on November 12-13, 2020
Early bird registration is now open! Offering more than 30% off.
We are excited to bring you the 2nd annual Global Workplace Wellness Summit, where together we will experience the power of the wellness competency mindset to create impactful, dynamic and highly participatory and multi-dimensional wellness program at work. Those of you attending from outside North America, please contact us for travel information. Learn more at https://globalworkplacewellnesssummit.com/
Executive Coaching Program
CERTIFIED EXECUTIVE COACHING PROGRAM
Offered in partnership with Center for Executive Coaching (Burlingame, CA).

Are you a mid to late-career professional interested in entering the highly rewarding field of executive coaching to learn how to coach executives through the process of solving real world problems? Get started with a 3.5-day intensive in-person executive coaching program with the Center for Executive Coaching, which is fully accredited by the International Coaching Federation (ICF).
The Center for Executive Coaching is unlike other coach training organizations for the following reasons:
Our members are accomplished professionals with a track record of success.
We focus on practical, results-driven coaching approaches. There is no fluff. We do not teach academic theory unless it has been proven and turned into an effective coaching application.
We include and then go way beyond the ICF core competencies to include marketing guidance, 26 practical coaching frameworks to solve pressing challenges, and real-world case studies.
We are exclusively focused on coach training for professionals who want to work with business owners, leaders, executives, managers, and up-and-coming talent. We do not cover life coaching!
We show you how to bake in results to your coaching, and keep clients longer than the vast majority of coaches – by providing unmatched value.
You get highly personalized, one-on-one support.
We have trained over 1,800 coaches around the world.
We do not teach what we call "coach light" approaches. These approaches will frustrate clients. We focus on what gets results and builds strong relationships with demanding clients.
Certified Executive Coach Training is a 3.5 day intensive program.
Next Sessions: June 25 – 28, 2020
The fee for this seminar is $7,500 (or $7,000 with discount code CCCE), which includes the live seminar, certification as an Executive Coach from the Center for Executive Coaching, indefinite access to the thrice weekly calls, and full access to numerous coaching frameworks you can use immediately to start working as an executive coach.
Learn more about this program here or contact Michael Neuendorff, PCC, seminar facilitator, to have all your questions answered.