Florence, Italy: Spring 2020
After careful consideration of the Coronavirus (COVID-19) situation in Italy and around the world, the Spring 2020 study abroad session in Florence, Italy was cancelled, and all students were instructed to leave Italy and return to the United States. SMCCCD and the other colleges have moved the courses to an online format so that students will be able to continue their courses for the semester. For further questions, please contact the Study Abroad Office at
studyabroad@smccd.edu
.
Florence is an exciting city in which to live and study. On an afternoon stroll through the streets of Florence, which is set amidst the golden hills of Tuscany, you can admire the architecture of Giotto and Baroque sculptures adorning the fountains of the city. You can linger in at the Uffizi Gallery with its vast collection of paintings and sculptures, and view the magnificent Santa Croce, where Galileo, Michelangelo, and Machiavelli are buried. Discuss art with Florentine painters in their studios and explore the bookshops near Via Cavour, and visit one of the most popular spots in Florence, the Ponte Vecchio, a 14th-century bridge spanning the River Arno.
Program Dates
Depart U.S.: February 1, 2020

Arrive Italy: February 2, 2020

Semester Break: March 14 - 22, 2020
Depart Italy: May 1, 2020

Application Deadlines
Priority: September 27, 2019

Final: November 9, 2019

Application Process
Ready to apply? Watch this six-minute video about how to complete the application.
Why Choose this Program?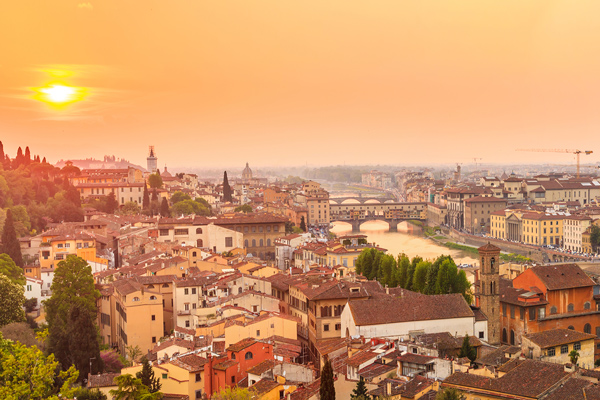 Academics
This program enables you to study abroad while making normal progress toward your degree objectives and earning fully transferable units in courses taught by community college faculty and guest lecturers. The Florence program is offered in cooperation with the Contra Costa County, Los Rios County, San Mateo County and Sonoma County Community College Districts, and with the American Institute for Foreign Study
(AIFS), which arranges transportation, living accommodations, and a wide range of student and instructional support services.
Units earned in Florence will appear on your transcripts issued by the participating colleges.
Program Eligibility
Students need not be currently enrolled at one of the sponsoring colleges in order to participate.
By the program application deadline, you must satisfy the following eligibility requirements:
Be 18 years of age or older.
Have a cumulative GPA of 2.25 or higher.
Have completed a minimum of 12 units of college level coursework.
Program Costs
The fee per person is $7,995. Fees are guaranteed not to change as a result of fluctuations in the dollar exchange rate.
The above fee excludes airfare, a $250 refundable damage deposit, optional medical insurance upgrade and optional personal effects coverage, passport or visa fees if applicable, meals other than those listed, personal expenses, any California Community College tuition or administrative fees, textbooks, additional field trips or excursions required by the NCSAC faculty and anything not specified.
Financial Aid
If you are receiving financial aid and would like to apply this towards the Spring 2020 Semester Abroad Program in Florence, you MUST complete the 2019-2020 FAFSA at www.fafsa.gov AND add the Federal School Codes for all the community colleges involved in the consortium (SRJC -001287, FLC -038713, DVC -001191, CAN-006973). A mandatory orientation will be required of all financial aid applicants with your home college's Financial Aid Office for this program.
Scholarship Opportunities
SMCCCD Study Abroad offers a limited number of scholarships for students to study abroad. There are also many scholarship opportunities through outside organizations. Visit our financial aid page to learn more about applying to these opportunities and schedule an advising appointment with your Study Abroad Advisor to learn more about the process of applying to scholarships by emailing studyabroad@smccd.edu or calling (650) 738-7098.
More Information or Questions?
For additional information or questions, please contact us at studyabroad@smccd.edu.
Like us on Facebook to learn more about the program, and connect with other students studying abroad all across the world.
Meet Your SMCCCD Faculty Teaching Abroad in Florence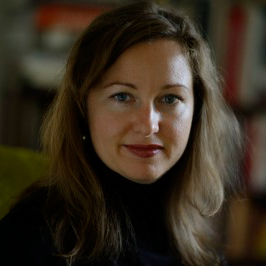 Professor Marshall feels more passionate about Study Abroad opportunities for faculty and students than any other thing on campus, as it promotes an understanding of the importance of human diversity through a direct experience. She was a community college student who studied abroad 20 years ago in Florence, and on that anniversary in Spring 2017 she taught Anthropology in the SMCCCD Semester Abroad Program in the same location. Both experiences had a profound impact on her life and allow her to "see" study abroad from a faculty and student perspective. She also led a short-term study abroad Archaeology program to Egypt in 2011, right before the revolution, and this past winter, she co-led a Cultural Anthropology and Biology program to Belize. Prof. Marshall has traveled, worked, and lived in over 100 countries and is trained extensively in cross-cultural understanding. She completed her coursework/research for her MA in England and PhD in Australia, living in both locations over two years. She has taught Anthropology for 15 years and looks forward to sharing her interest in culture with students abroad in Florence again in 2020.