A Culture of Arts in Cuba
With a landscape of great tropical beauty, Cuba as a nation has amazing spirit and pride. A unique mix of Afro-Caribbean and Spanish colonial culture can be experienced in the people, art and architecture. Evidence of the more than 50 year Embargo can be seen, but the Cuban people continue to have great hope for the future at this very important juncture of their history. Make your way through Havana, Cuba's vibrant capital, from an old town Havana tour to a Classic Car Sunset show. Visit the Museum of Fine Arts, a Cigar Factory, a Rum Museum, meet local artists and much more that Cuba has to offer.
Tour Details
---
| | |
| --- | --- |
| Tour Dates: | Mar 29, 2019 – Apr 6, 2019 |
| Duration: | 8 days |
| Program Fee: | $3,895 |
| Optional Flight Package: | $1,023 (SFO – MIA – HAV) |
| Activity Level: | Moderately Active |
| Tour Operator: | AIFS |
| Spots Available: | 2 |
| Enrollment Deadline: | January 3, 2019 |
| CST: | 20224152 |
Program Fee Includes:
Cultural Activities and Excursions
A Salsa Dance Class.
A farm-to-table experience, including lunch.
A walking tour of Old Town Havana.
A Classic Car Sunset Tour with drinks at the Hotel Nacional.
A visit to the Soroa Orchid Farm and Botanical Garden.
A visit to Viñales Valley.
A visit to Psicolab Cuban art co-op.
A visit to a Cigar factory, a Rum Museum and the Almacenes San Jose.
A tour of Hemingway locations including la Finca Vigia and Marina Hemingway.
A visit to the Gran Teatro.
A visit to the Museum of Fine Arts.
An evening show at La Taberna Social Club.
A visit to the Morro Castle fortress for the shooting of the cannons ceremony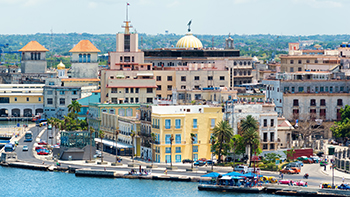 Cuban Visa, Accommodation, Meals and In-Country Transfers
Cuban entry visa and associated fees.
Accommodation: Double occupancy twin-bedded en-suite rooms at the Hotel Nacional in Havana. Single occupancy available for upgrade at $495 additional supplement for trip duration.
Meals: Daily breakfast at the hotel in Havana, three lunches and four dinners as outlined in the program itinerary.
In-Country Transfers: transportation by private bus as required according to the program.
$500 tax-deductible contribution to the San Mateo County Community Colleges Foundation Study Abroad Scholarship Fund.
$150 San Mateo County Community College District administrative fee.
Schedule an Informational Appointment
Social Impact
For many college students, study abroad is a special goal of their undergraduate years. Financially, the experience is often out of reach. What can you do? Take that trip you've been promising yourself – and help students achieve the international study opportunity they've been dreaming of. Participate in one of our upcoming educational travel tours, and $500 (tax-deductible) of your registration fee goes directly into our foundation's scholarship fund to help our students live and learn in other countries. It's a win-win – a curated travel experience for you, and a life-changing time for a student.
More Information or Questions?
For additional information or questions, please contact us.