Overview
Auxiliary Services of the San Mateo County Community College District is the central coordinating organization with departments that provide indispensable services to the students, staff and faculty of the three colleges and District staff. Our sole purpose is to support the missions of the three Colleges and District as they pursue educational excellence.
Auxiliary Services & Enterprise Operations unifies all of the District's enterprise services into one organization. Reporting to the Vice Chancellor of Auxiliary Services & Enterprise Operations, the organization includes the bookstores, dining and banquet services, campus vending, rental operations in the college dining halls and the San Mateo Athletic Club located on the campus College of San Mateo. All of the District enterprises are self-sustaining. Income generated covers the total salaries and all operational expenses generated by these operations. Financial surpluses are reinvested in the enterprises to continue enhancing the services offered and maintaining the facilities themselves. Additionally, Auxiliary services helps to offset other expenses in the District through salary and service support and supports scholarships, student life and other campus with over $100,000 in direct financial and in-kind support. General fund dollars are not used to subsidize District enterprise operations.
2015 - 2016 Annual Report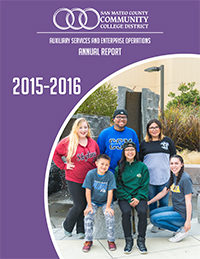 Read the report. 6MB download.