Important Information for Borrowers in Repayment!!
If you are a current student enrolled in at least 6 units, this may not apply to you. Contact your servicer for more detailed information.
COVID-19 Emergency Relief and Federal Student Aid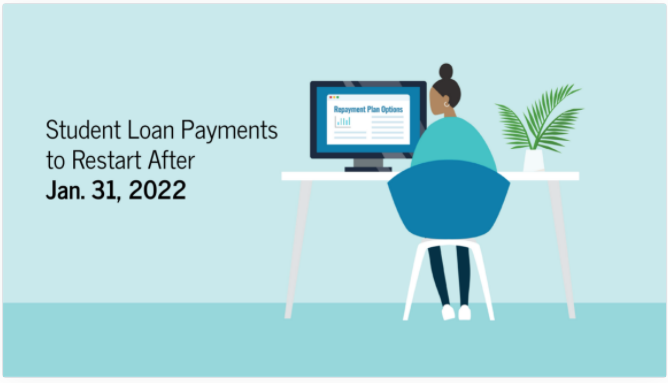 The COVID-19 emergency relief for federal student loans ends Jan. 31, 2022. Here, you can learn how to prepare for loan payments to begin again. You can also find information about COVID-19 relief, impacts, and resources.
Preparing for Repayment to Resume
Here are three steps to make sure you're prepared for student loan payments to resume:
Update your contact information in your profile on your loan servicer's website and in your gov profile.
Check out Loan Simulatorto find a repayment plan that meets your needs and goals or to decide whether to consolidate.
Consider applying for an income-driven repayment (IDR) plan. An IDR plan can make your payments more affordable, depending on your income and family size.
Once the payment suspension ends, you'll receive your billing statement or other notice at least 21 days before your payment is due.
For more information please visit the StudentAid.gov site.
Contact your loan servicer online or by phone to find out what your payment amount will be when payments restart. Your loan servicer is your source for official, up-to-date information about your loan. If you any questions or need assistance please contact Luanne Canestro at canestrol@smccd.edu.