Keywords
CollegeSource: Refers to "TES®: Transfer Evaluation System," where SMCCD course matches are housed. To avoid confusion with our service "TES: Transcript Evaluation Services," our department will refer to CollegeSource-TES, as just "CollegeSource."
Course Match: This refers only to the SMCCCD College's Prefix + Course Number. This does NOT necessarily mean that the incoming course has the same Attributes as SMCCCD's course. In this screenshot the course match would be ANTH 125 at the College of San Mateo.
Attributes: These are the requirements the course could satisfy based on the information we have and the relevant standards. In this example, CSUSB's ANTH 100 course can be applied towards AA/AS Social Science, CSU GE area D, IGETC area 4, and either local AA/AS degrees or ADTs. Please see attribute legend.
Begin & End Date: In the example the course match & its attributes are applicable to students who took CSUSB's ANTH 100 starting Fall 2000 (8/1/2000) to the end of Summer 2020. The End date serves as a "stopper," indicating that the course must be reevaluated for any students who took ANTH 100 starting the Fall 2020 term (8/1/2020).
Month: 8: Fall; 5: Summer; 3: Winter/Spring
Day: "01" signifies the start of the term
Year: Academic Year
Visual Example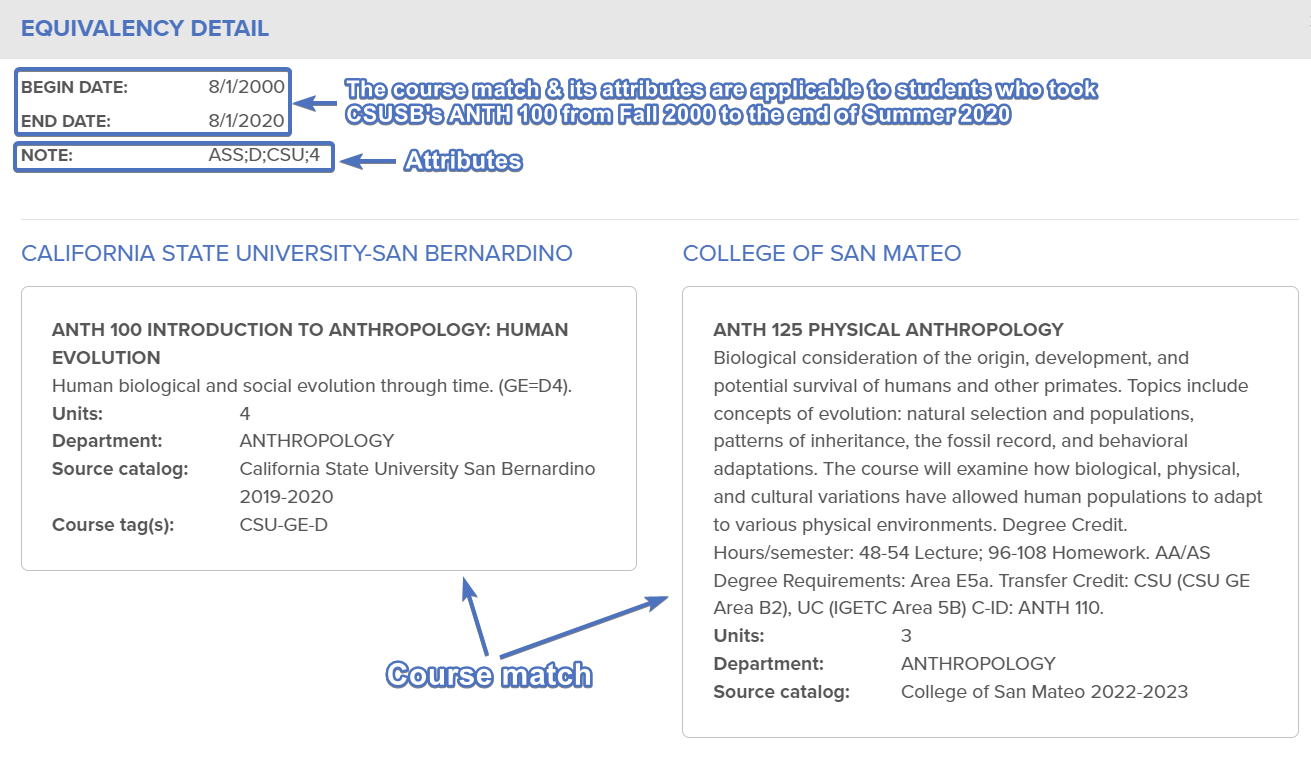 Attribute Legend
AND

1 to many course match
*often used for lecture/lab sequences

EITHER/OR

More than one possible course match. However, only 1 can be applied (1:1).

llllllllllllllllllllllll

llllllllllllllllllllllllllllllllllllllllllllllllllllllllllllllllllllllllllllllllllllllllllllllllllllllllllllllllllllllllllllllllllllllllllllllllllllll

ADO

AA/AS Applicable ONLY; No Transfer

AEC

AA/AS ENGL Competency

AHU

AA/AS Humanities

AMC

AA/AS MATH Competency

ANS

AA/AS Science

ANSL

AA/AS Science Lab

APE

AA/AS Physical Education

ASS

AA/AS Social Science

ACRE

AA/AS Career Development/Lifelong Learning

llllllllllllllllllllllll

llllllllllllllllllllllllllllllllllllllllllllllllllllllllllllllllllllllllllllllllllllllllllllllllllllllllllllllllllllllllllllllllllllllllllllllllllllll

CSU

Generally, CSU Transferable

llllllllllllllllllllllll

llllllllllllllllllllllllllllllllllllllllllllllllllllllllllllllllllllllllllllllllllllllllllllllllllllllllllllllllllllllllllllllllllllllllllllllllllllll

A1

CSU GE Area A1

A2

CSU GE Area A2

A3

CSU GE Area A3

B1

CSU GE Area B1

B2

CSU GE Area B2

B3

CSU GE Area B3

B4

CSU GE Area B4

C1

CSU GE Area C1

C2

CSU GE Area C2

D

CSU GE Area D

E1

CSU GE Area E

E2

CSU GE Area E - Physical Education

F

CSU GE Area F

US-1

CSU AH&I US-1

US-2

CSU AH&I US-2

US-3

CSU AH&I US-3

llllllllllllllllllllllll

llllllllllllllllllllllllllllllllllllllllllllllllllllllllllllllllllllllllllllllllllllllllllllllllllllllllllllllllllllllllllllllllllllllllllllllllllllll

1A

IGETC Area 1A

1B

IGETC Area 1B

1C

IGETC Area 1C

2A

IGETC Area 2A

3A

IGETC Area 3A

3B

IGETC Area 3B

4

IGETC Area 4

5A

IGETC Area 5A

5B

IGETC Area 5B

5C

IGETC Area 5C

6A

IGETC Area 6A

7

IGETC Area 7